It's been 30 years since Times Microwave Systems first introduced the LMR coaxial cable in 1993. Over the past three decades, LMR coaxial cable has established itself as one of the market's most reliable and versatile cable options, offering a unique combination of performance and affordability.
In the early 1990s, wireless technologies were rapidly advancing. As a result, the frequencies they operated in began to move higher and higher, creating more demanding performance needs for RF cables. At the time, the coaxial cables in use were either RG or corrugated copper constructions. The RG designs were flexible but typically had high-loss and minimal RF shielding. They were also not designed to hold up in an outdoor environment. The corrugated cables provided low loss and held up well outdoors but were very stiff, susceptible to kinking and difficult to terminate. The LMR construction brought together the positive characteristics of both of these older designs and none of the negatives.
Times Microwave Systems recognized the need for a more reliable and efficient coaxial cable solution for these growing wireless communications applications. The company's extensive knowledge and experience with coaxial cables made it uniquely qualified to bring this optimal construction to the market. Times Microwave Systems launched its first LMR coaxial cable, LMR-400, which quickly became the industry standard in high-performance broadband cables.
The LMR-400 was the first flexible, low-loss, 50 Ohm cable option with foam core technology, designed to provide low-loss signal transmission, high flexibility, and high durability in a compact, lightweight design. The cable's unique design and construction set it apart from traditional coaxial cables, providing improved performance and reliability in the field. In addition, the cable's rugged construction and low attenuation made it ideal for use in challenging environments, such as in high-frequency applications, harsh weather conditions, and underground installations.
The market quickly recognized that the LMR cable offered improved performance and reliability compared to traditional coaxial cables and was soon followed by other variants, including LMR-600, LMR-100, LMR-195, and LMR-240. Furthermore, as the wireless/cellular market continued to expand, from paging to cellular to PCS, the applications continued to increase in frequencies, spawning the introduction of larger-size cables like the LMR-1200 and LMR-1700.
Over the years, Times Microwave Systems' engineers continued to innovate LMR coaxial cable designs to incorporate new advancements to meet evolving market needs. Today, there are several variants of LMR coaxial cable, each with its own characteristics and performance specifications. For example, Times Microwave Systems expanded the line with non-halogen, low smoke flame retardant designs with LMR-FR cables, flexible versions including the LMR Ultraflex, 75 Ohm versions, low-loss plenum cables for high-end building applications, and LMR- DB, a waterproof version of the LMR. This variety of options allows customers to select the best cable solution to meet their exact requirements.
In parallel, Times Microwave Systems developed and has continuously improved its assortment of more than 90 connectors for the LMR series, designed to fit many new interfaces and configurations with modular designs, precision-quality and excellent performance. This includes soldered and non-soldered options, including the latest X-series non-solder EZ connectors, EZ (spring finger pin) and TC (solder-pin) designs. As with all Times connectors, the new models have excellent corrosion resistance, rugged pull strength and optimized VSWR performance. And they're designed to provide an easy, fail-proof way to terminate LMR cables. Watch this demo video to see just how easy!
Times Microwave Systems further elevated its LMR line by offering a comprehensive solution for installers that includes cables, connectors, installation tools, weather-sealing boots, support hangers,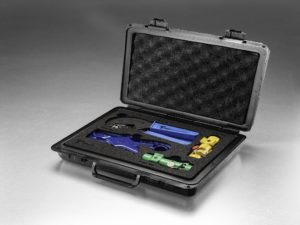 grounding kits, and more to deliver a seamless installation experience by ensuring everything works as a system—from the antenna to the equipment.
With a proven track record of durability, LMR has been trusted by customers across a wide range of industries and applications, from monitoring systems to water sensors and even Air Force One. LMR sets a standard for quality that other suppliers try to emulate, sometimes even falsely marketing inferior products under the LMR name – but the fact is, LMR is a registered trademark of Times Microwave Systems, the only company that makes authentic LMR products. This decades-long legacy showcases the exceptional quality and durability of the product, solidifying its place as a trusted solution for all types of RF applications.
Here's to many more years of efficient, high-performance signal transmission with LMR coaxial cable from Times Microwave Systems!
Recent Posts
It's been 30 years since Times Microwave Systems first introduced the LMR coaxial cable in 1993. Ove …

TelExpress, Inc. is pleased to announce our new distributor agreement with Nextek.NexTek's main focu …

Westell is introducing a new family of GMT fuse panels that have the latest technology in connectiv …